How to make a great Key Lime Martini, with complete recipe.
This is a martini cocktail with a tropical twist.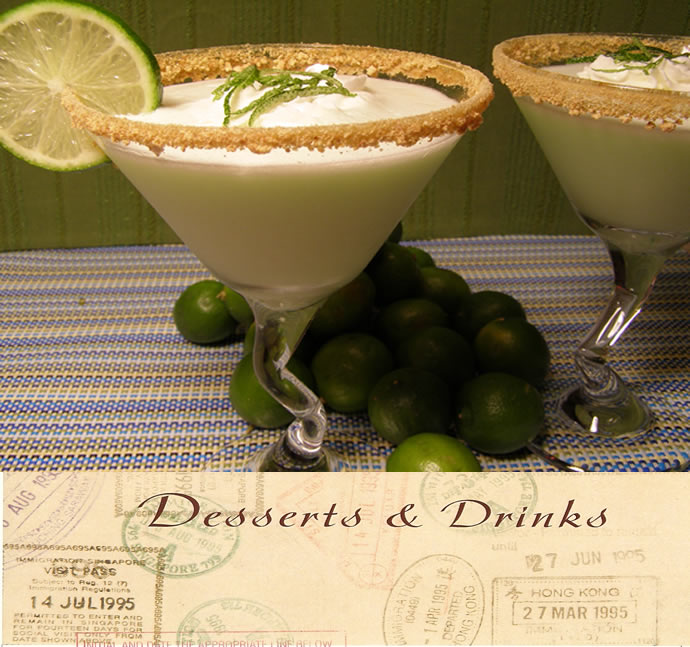 Key Lime Martini
Key Lime Martini Recipe:
Ingredients
• 1 1/2 oz Stoli Vanilla Vodka
• 2/3 oz KeKe Beach Key Lime Liqueur
• 2/3 oz Rose's Lime Juice
• Finely Ground Graham Crackers
• Lime Wheels for garnish
Martini Instructions
Pour a little of the Rose's lime juice into a shallow dish.
Pour graham crackers into another shallow dish.
Fill a cocktail shaker with ice.
Pour the vodka, keke beach, and the measured rose's into the cocktail shaker.
Shake until the contents are cold.
Turn martini glass upside down and dip the rim into the lime juice.
Then dip the rim into the graham crackers.
Pour the shaker mx into a glass.
Add a lime wheel as a garnish.
BE SURE TO CHECK OUT THE OTHER FREE COCKTAIL RECIPES!
VISIT OUR SISTER SITES AND OUR OTHER LINKS
FOR MORE GREAT IDEAS.

SHARE US ON FACEBOOK.

BECOME A MEMBER OF THIS BLOG.


TAGS: How to make a wine cooler, tropical drinks, beach drinks, umbrella drink recipes, island drinks, Martini Recipes, Key Lime recipes, Vodka cocktail drink recipes, Vodka.