How to make the classic tropical drink the Blue Hawaiian, with instructions and recipe.
The Blue Hawaiian is one of the most popular of the tropical drinks in the Hawaiian Islands. It is on the top ten list of best tropical drinks. This is also a popular tiki bar drink.
Blue Hawaiian Cocktail Drink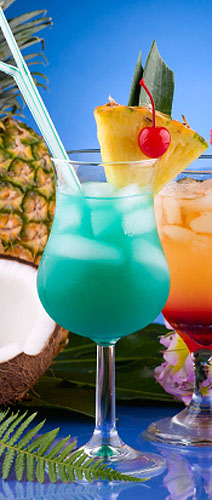 Blue Hawaiian
Blue Hawaiian Recipe:
Ingredients
• 1 oz. of a Light Rum (Cruzan, Bacardi, etc.)

• 2 oz. of Pineapple Juice

• 1 oz. Blue Curacao (DeKuyper, Hiram Walker, Alize, Monin, etc.)

• 1 oz. of Creme de Coconut

(Coco Lopez Creme De Coconut)



• 1 slice of Pineapple (Garnish)
• 1 Cherry (Garnish)

Procedure
Blend the light rum, blue curacao, pineapple juice, and cream of coconut with one cup ice in an electric cocktail blender at high speed. Then pour the contents into a highball glass. Garnish the cocktail with the slice of pineapple and a cherry.
Vist our other free great tropical drink articles and other links for more great ideas.
TAGS: Tropical drinks, Rum, Rum Recipes, Rum Drinks, Tiki Cocktails, Blue Drink Recipes,
Rum drinks, Tropical drinks, Rum Recipes, Tiki Drinks, Vodka drink recipes, mixed drinks, cocktail drink recipes, tropical recipes, Umbrella drinks, beach drinks, island drinks,