Tropical Cocktail Recipes.
Learn to make the "Twisted Pink" recipe, a cocktail drink recipe using Malibu coconut rum.
You'll get twisted with this classic blend of flavors. The coconut rum mix nice with the cranberry and grapefruit to make a great tropical cocktail drink. Very easy to make, just one part of the follow ingredients.
Twisted Pink
DRINK INGREDIENTS:
1 part Malibu Coconut Rum
1 part Cranberry Juice
1 part Fresh Grapefruit Juice
Cocktail Mixing Instructions:
Simply pour the three ingredients into a highball glass with ice cubes.
Give a quick stir to mix.
Then garnish with a grapefruit slice.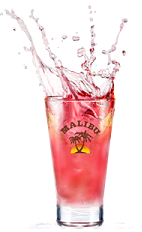 Twisted Pink
Share this site with others!
Visit the other tropical and fruit cocktail recipes on this site.
Article Summary:
Tropical cocktail drink recipes present how to make the twisted pink cocktail drink using Malibu coconut rum and fruit juice.